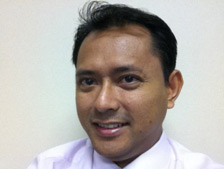 It is my great pleasure to welcome you to Malaysian Thoracic Society Annual Congress 2011. The congress will be held in Shangri-La Hotel, Kuala Lumpur. With a fabulous location and superb scientific programme lined up, I am sure the congress will be able to cater for the continuous medical education needs of various groups of healthcare practitioners from respiratory and general physicians to family medicine specialists and general practitioners. We also welcome allied healthcare professionals who are pivotal in the delivery of healthcare excellence.
The MTS annual general meeting will also be held during the congress. We welcome you to join our society. Good news! MTS has a new category of membership called "Affiliate Membership" for non-doctors.
I hope to see you in Shangri-La Hotel in July 2011.
Thank you.

Associate Professor Dr. Fauzi M. Anshar
Organising Chairman
MTS Annual Congress 2011


Application for 2011 MTS travel grant to attend Annual Congress.
The Malaysian Thoracic Society invites applicants for the "2011 MTS Congress Travel Award".
The main objective is to encourage participants to present quality scientific research findings at the congress.
The travel grant is worth RM1000 and up to twenty awards will be given.
Application should be done online by ticking the relevant box in the abstract submission form.
Application must be received before 30 June 2011. The organizing committee reserves the right to alter the date.
The application will be considered once the abstract of the free paper, either as oral or poster scientific communication has been submitted.
The abstract will be evaluated by the scientific committee which will recommend the travel award based on the merits of the paper. The decision is final and appeals will not be entertained.
Any applicant who wishes to apply for this grant must have registered for the congress and paid fully.
One applicant may only receive one travel award per year and must present the paper during the Congress.
The recipients' names will be announced in the MTS website and the award will be disbursed after the paper has been presented.
Click here for more details.